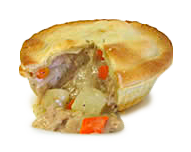 If you're in the mood for authentic handmade bierocks prepared with quality ingredients, you've come to the right place. Welcome to the Berrock Shop!
Whether you want a lunch that's deliciously different than the same old sandwich, a dinner that's a special treat for the whole family – or just the ultimate in simple, satisfying comfort food – the Berrock Shop is the name to know.
Speaking of our name, why the funny spelling? Because the bierock was fairly new to the valley back in 1977 when our shop opened, and "berrock" was easier for folks to pronounce. The name has stuck ever since, and so has our reputation for serving hot, wholesome bierocks made from scratch… just like you would at home if you had the time.